laimelady wrote:FYI non-cook here planning this nifty not-soy-tofu

Tasty Thanksgiving Veggie Turkey with This Recipe | InHabitat
Mmmm.....tasty!!
Bringing these over from
SupportSpike
Buffy Anniversary
'98 Season 3/Episode 08: Lovers Walk
Spike returns to Sunnydale a broken vampire. Drusilla has left him, and he will do anything
to win her back, including kidnapping Willow and Xander to force Willow to prepare him a
love spell. Will Willow do the spell, or can the Scoobies prepare for tragedy?
http://ow.ly/GGdq7
BTVS: Season 3/Episode 08: Lovers Walk
[Cut to, a small park and playground that night. A classic 1958 Dodge Desoto FireFlite
crashes through the 'Welcome to Sunnydale' sign and screeches to a halt. The door opens,
and a nearly empty liquor bottle falls out and smashes to pieces on the pavement. Spike
slides off of his seat and hits the street flat on his back on top of the broken glass, drunk
out of his mind. He lifts his head unsteadily and tries to raise himself to his elbows.]
Spike:
"Home, sweet... (chuckles) home."
[He passes out and collapses back to the pavement. Opening credits roll.
Buffy's theme plays].
Now THAT'S what you call "AN ENTRANCE!"
-------------------
Buffy Anniversary
'97 Season 2/Episode 10: What's My Line?, Part 2
Buffy is attacked by the mysterious girl and during the fight learns that her name is Kendra
and that she is a Vampire Slayer. Apparently, Buffy's temporary death at the hands of the
Master was enough to activate the next Slayer, and she has come to Sunnydale. They call
a truce, and Giles convinces them to work together to save Angel from Spike and Drusilla.
http://ow.ly/GGdq6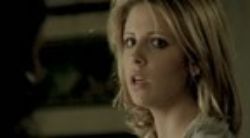 BTVS: Season 2/Episode 10: What's My Line?, Part 2
[Willy bends over to pick up the bill as the two thugs grab Angel and drag him off.]
WILLY:
"What are you gonna do with him anyway?"
SPIKE:
"I'm thinkin' maybe dinner and a movie. I don't want to rush into anything.
I've been hurt, you know."