Bringing these over from
SupportSpike
Buffy Anniversary
'01 Season 6/Episode 09: Smashed
After breaking up with Tara, Willow successfully de-rats Amy and the two witches
begin hanging out and having fun with magic, drawing Willow further into her
growing addiction. Meanwhile, Spike notices that his chip doesn't kick in when he
hits Buffy, leading him to believe that she may not be entirely human anymore.
http://ow.ly/GGdq1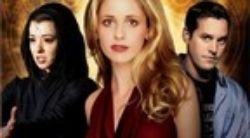 BTVS: - Se6/Ep9 – Smashed
The thing I remember most about this episode, is fast-forwarding/rewinding
the recording ALOT!!!
----------------
Today's poll:
Have you ever gone to a convention to see
James Marsters – The Official Page
or any other
Buffy The Vampire Slayer
actors?
A) Yes!
B) No
(Me) Yes! James is a gorgeous, adorable man. He gives great hugs too. I've also met some fantastic fans.
Meeting them makes an event even more special and memorable.